Just a quick mid-week post for an exciting (to me) announcement:
Abridged: the blog
has officially joined the
Chronic Illness Bloggers Network.
The network is a consortium of bloggers writing about all sorts of life-stuff while dealing with all sorts of different illnesses.
And it seeks to connect bloggers in a way that provides mutual support and encouragement.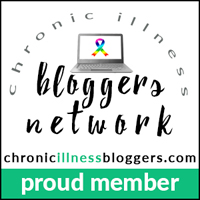 Bloggers connect, promote, and share posts through Pinterest, Facebook, and Twitter.
And the network can also connect them with sponsorship opportunities.
Chronic Illness Bloggers Network
Big List of Blogs
Facebook
Twitter
I'm looking forward to discovering new blogs and connecting with others learning how to navigate life with life-altering illness!